---
Flygare Honey Farms
Presentation to the Annandale History Club
on April 1, 2019 by Paula Petty
---
History of Flygare Honey Farms
by Paula Petty
My father, Everard Flygare, was born in 1909 to Anna and Herman Flygare, immigrants from Sweden. The eldest of his 3 siblings, Ellis, Margaret, and Robert, they resided on Columbus Ave in Minneapolis where his father was a chef. When he was about 9 the family moved to South Haven where his father owned the general store. He graduated from South Haven High School and then worked at the store. He did attend the Minneapolis School of Business and Dunwoody Institute a short time wanting to become a meteorologist or surveyor, but he ran out of money and had to return home.
The 1930s were rough years due to the great drought and great depression. He took over his father's 6 beehives which were badly diseased, cleaned them up and restocked them with new bees. He met a bee inspector for the area, Frank Rojina, who taught him much and gave him is start in his new vocation.
In 1941 Everard's father invested in 100 colonies of bees but became ill and couldn't care for them or the store, so Everard worked both and supported his parents. By then he had expanded to 14 or 15 bee yards with around 30 hives per yard. He rented different buildings in South Haven to process the honey to sell.
In 1944 he met his Queen Bee, Harriet Nordberg and they were married August 18, 1945. They bought a home with 16 acres on Lake Sylvia where they spent their entire lives. They had three daughters, Meredith, Gwen, and Paula.
In 1946 Everard built his Honey Shop. It was built on a side hill with a second story which used a gravity system for extracting and storing the honey. Honey production was good and in demand because of sugar rationing. He had a honey route that he would deliver to stores around the area and also retail at the house. After sugar rationing ended honey sales plummeted so he advertised and met a man named John Kallas from Wisconsin who bought shipments of 1-2 tons of honey at a time for resale. They became lifetime friends.
In 1950 Everard landed a huge account with Nash Finch, a wholesaler in St. Cloud. By then he had expanded to about 500 hives which yielded around 100 pounds per hive, though he did have some that produced up to 400 pounds. He supplied Nash Finch with honey from 1950 to about 1979. He figured that over that time he had sold them about half million pounds. He routinely had to restock weak hives with new bees which were shipped from bee suppliers. One year he got some and decided they were killer bees. They were vicious, but he managed to harvest the honey. They silver lining was that they were extremely high producers. Fortunately they were not Minnesota winter hardy and died off that winter. Bees, like dogs, horses, etc., have various breeds and temperaments. Midnight, Caucasians, and Italian are some of the milder ones.
Everard worked full time until he was 74. In 1984 he sold the business and honey shop to current owners Mike and Debbie Schmidt who currently own and operate the business. You can find their honey in local stores under the name Minnesota Gold.
My Dad enjoyed his retirement years traveling, fishing, bowling, sailing, and skiing. He stayed on Lake Sylvia until his death in 2005 at age 96.
---
Paula spoke about the photos below and showed a video called "Honey Extraction." She brought delicious Honey Caramel Rolls for the History Club members following her presentation.
---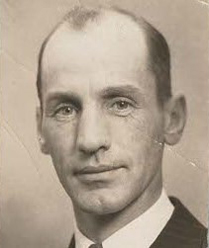 Everard Flygare
---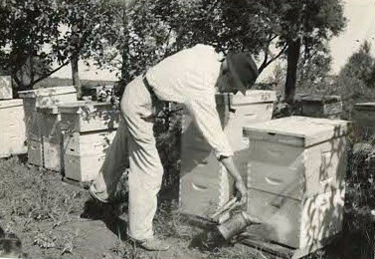 Everard in a bee yard.
---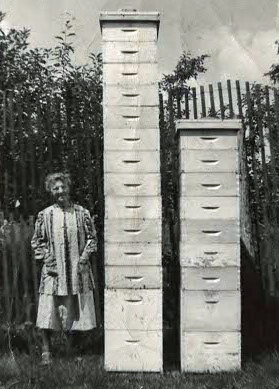 Everard's mother, Anna, next to a tall hive.
---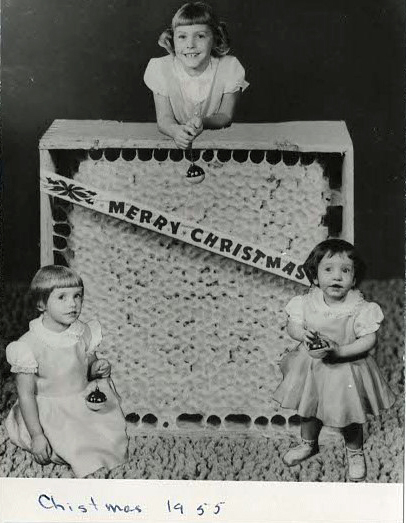 The family's 1955 Christmas card photo which also appeared on the cover of an American Bee Journal. The photo was taken by local photographer Elwyn Nordberg, Harriet's brother.
---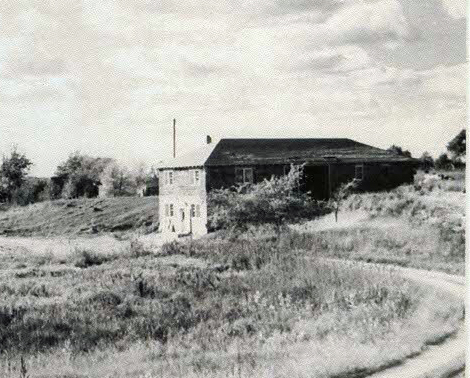 The block building used to process the honey was built in 1946, a year after Everard purchased the 16 acres along Lake Sylvia in Annandale.
---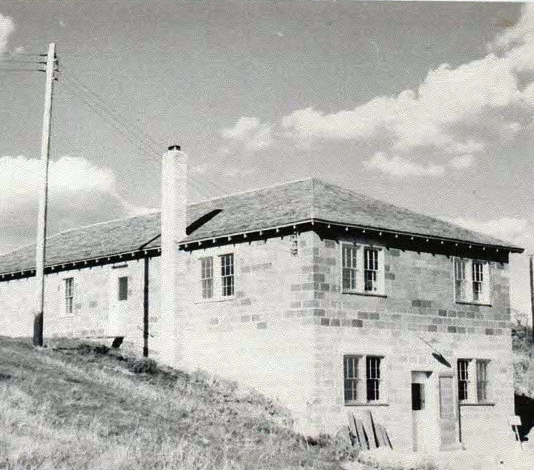 Everard sold the bee business to Mike and Deb Schmidt in 1984. The sale included 4 acres of land including the block processing building where the honey is heated, strained, bottled, and labeled.
---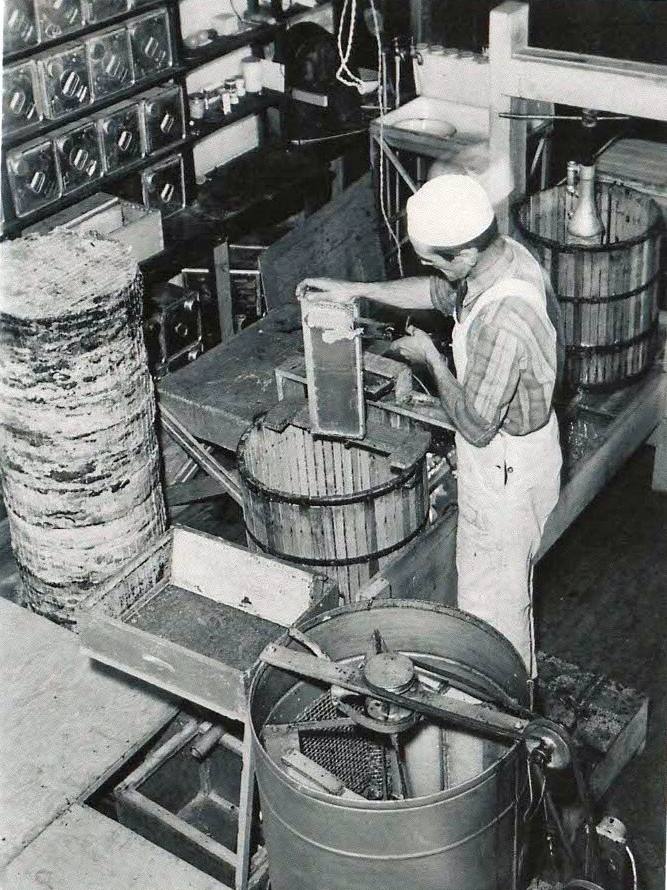 Everard is scraping the honey from the comb. It then put in the barrel extractor (the cylinder in the foreground of the photo) where it spins very fast. Everard's extractor spun 45 revs/minute, Mike has upgraded to a 90 rev/minute extractor.
---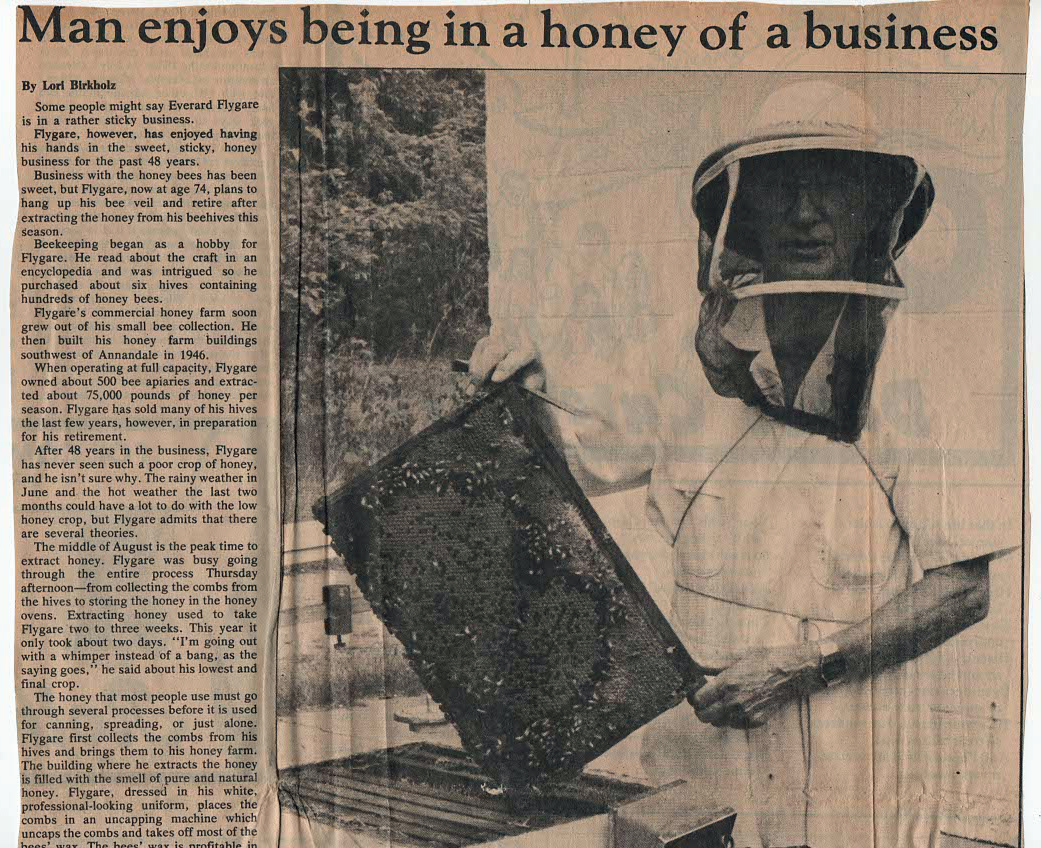 The Annandale Advocate published a feature on Everard's bee business in the 1980s soon before he sold it to Mike Schmidt.
---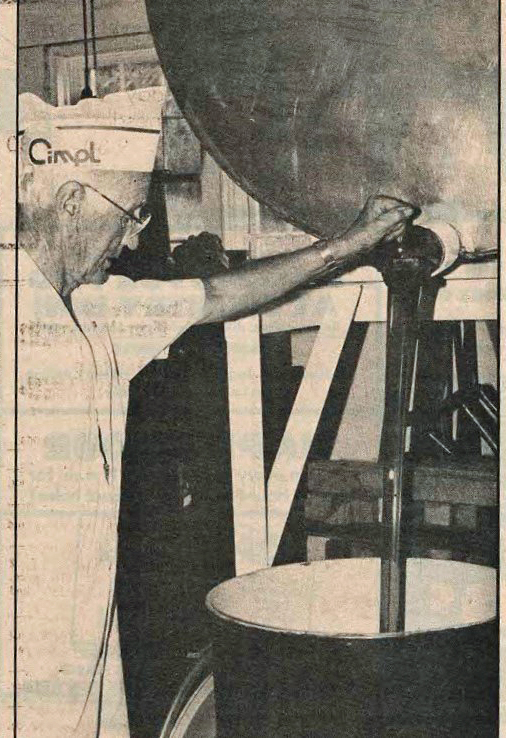 Large 55 gallon drum
---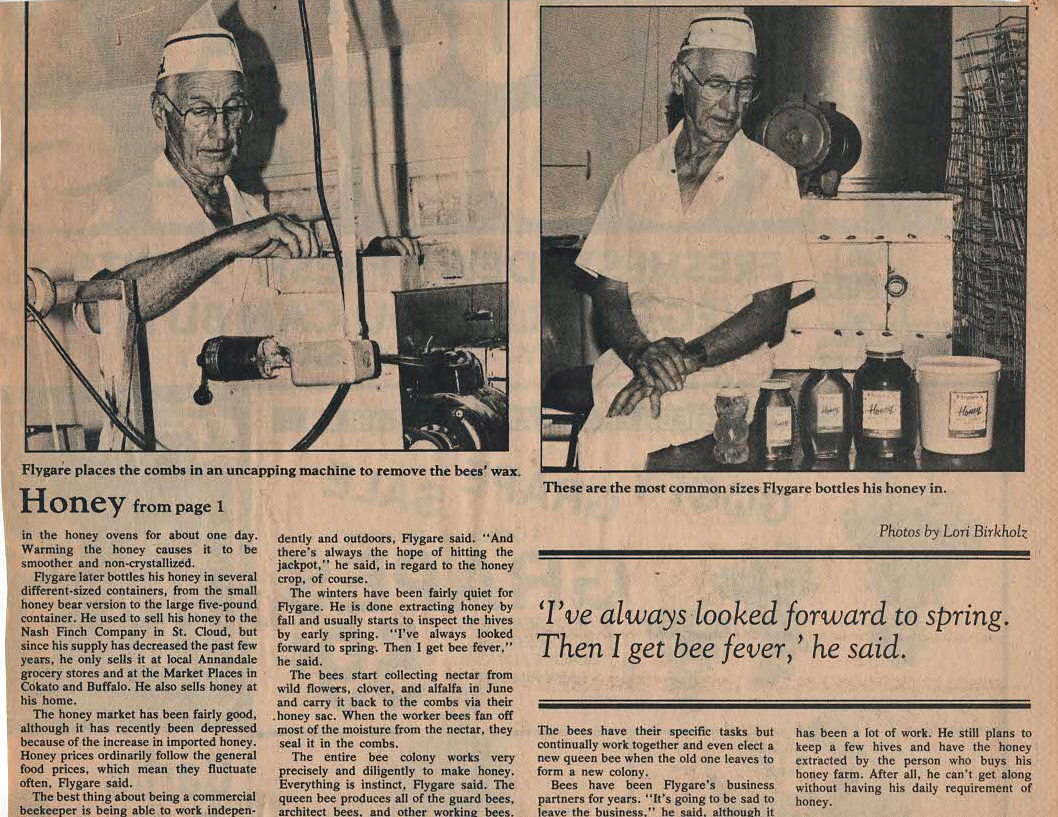 The photo on the right shows the different size jars and containers of honey.
---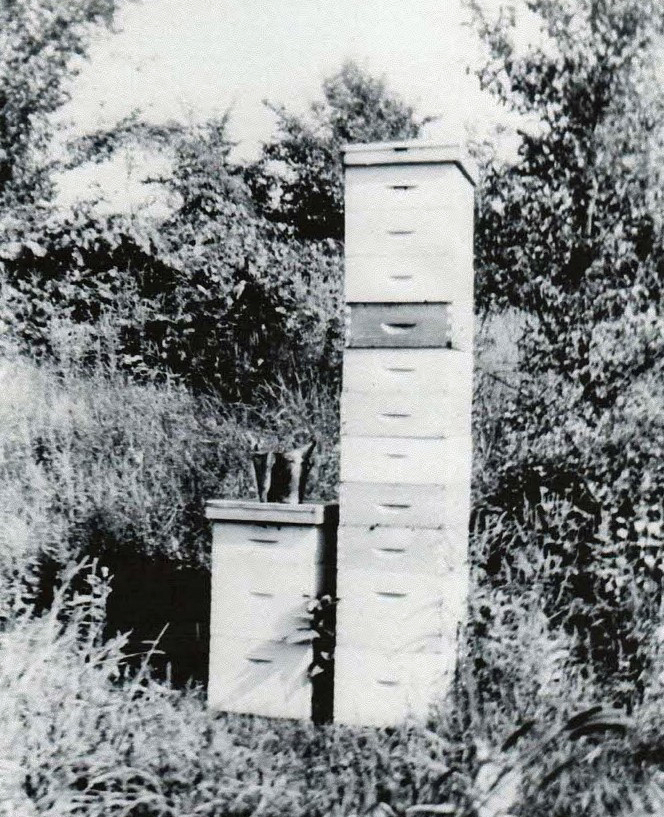 A very tall hive.
---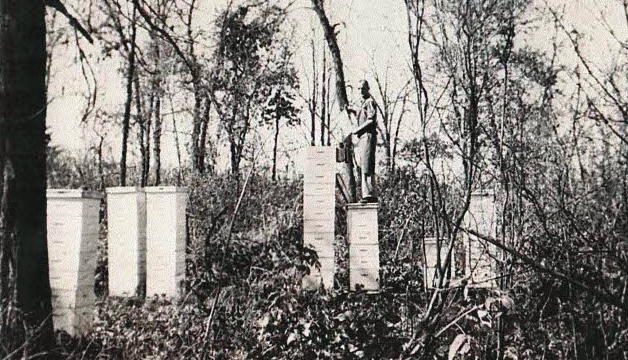 Everard is standing on one tall hive to reach another taller one.

---