---
Painting Credit
Detail from
Heart of the Lakes Triathlon
Poster

by Jim Rataczak
---
Nature Artist Jim Rataczak is a 1983 graduate of Annandale High School. At an early age he frequented area lakes and fields of Annandale where he developed an appreciation for the birds that he would paint at with such success in the future. Jim's parents still live on the Lake Sylvia in the home where he grew up.
In 1986 Jim's father, Bill Rataczak, organized the first 10K Fun Run, the precursor to today's renown Heart of the Lakes Triathlon that is held annually in July in Annandale. Jim began designing for the triathlon in 1990 with t-shirts and added posters in 1992. Each year the posters are awarded to winners in the various categories of the triathlon, and they are also available for purchase on Race Day. Jim's posters have become a popular and important feature of the event.
---

Recent Triathlon Posters


2003
Kingfisher

2002
Eagle
2001
Barn Swallow

1999
Cardinal
---
See more of Jim's work on his website www.JimRataczak.com
---
Jim Rataczak, Nature Artist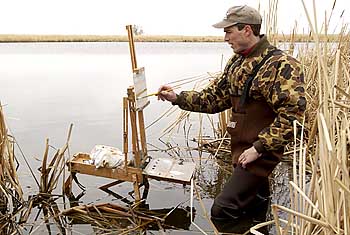 Photo courtesy of Delta Waterfowl
---
CLICK HERE to see an index of other pictures that have appeared on the Home Page of Annandale Online.
---