$250,000
HARPER FAMILY FOUNDATION
---
$50,000 TO $100,000
CHILDREN OF LONG TIME COMMUNITY MEMBER,
THE LATE DOROTHY PETERSON
SUBURBAN RAFFLE PROCEEDS
---
$25,000 TO $50,000
ANNANDALE STATE BANK
CITY OF ANNANDALE
---
$10,000 TO $25,000
DONNA KUIPER & FAMILY
IN MEMORY OF PETER KUIPER
MID-MINNESOTA HOT-MIX, INC.
ANNANDALE ROCK PRODUCTS, INC.
---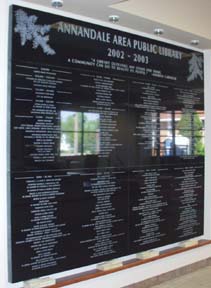 $5,000 TO $10,000
ALBION TOWNSHIP
ANNANDALE ADVOCATE
STEVE PRINSEN, SHARON SCHUMACHER, MARLENE YOUNG,
JODY BROSE, LANCE OVERLAND, CHUCK STERLING & BRENDA DOCKENDORF
ANNANDALE FIREFIGHTERS' RELIEF ASSOCIATION
ANNANDALE IMPROVEMENT CLUB
FOUNDERS & FRIENDS OF THE LIBRARY SINCE 1898
JOHN & JILL BISHOP
DWAYNE & SHIRLEY BRUNS
CORINNA TOWNSHIP
COUNTRY CHEVROLET
"WE'LL BE THERE"

EASTVIEW MOBILE HOME PARK, INC.
GEORGE & ANNE FLANNERY
FRENCH LAKE TOWNSHIP
HEART OF THE LAKES TRIATHLON
LAKEDALE COMMUNICATIONS
LUNDEEN BROTHERS FORD
IN MEMORY OF CARL, WALTER, JOE, EDWARD, HENRY & AGNES LUNDEEN
MALCO PRODUCTS, INC.
MINNESOTA PIONEER PARK
SOUTHSIDE TOWNSHIP
JERRY & MARGE TRUMAN
WRIGHT-HENNEPIN ELECTRIC TRUST
OPERATION ROUNDUP
---
$1,000 TO $5,000
AID ASSOCIATION FOR LUTHERANS BRANCH 2197
PROCEEDS FROM BAKE SALE & HELPING HANDS
BILL & CAROL ANDERSON
ANNANDALE AREA ARTISTS
PROCEEDS FROM "ARTISTS AT HOME SHOW"
Annandale Development Corporation
ANNANDALE EDUCATION ASSOCIATION
ANNANDALE MIDDLE SCHOOL STUDENTS & STAFF
BUILDERS CLUB
ANNANDALE MIDDLE SCHOOL
ELIZABETH A. CABALKA
IN LOVING MEMORY OF CHARLES M. WINGER
MINNIE LORA CHENEY
IN LOVING MEMORY OF LESTER V. CHENEY & ADAM JOHN OTTO
CLEARWATER LAKE PROPERTY OWNERS
ART & MARLENE DINGMANN
JUDY & DUB FERRELL
BETTY GUNNARY
PAUL J. HANSEN
IN MEMORY OF ROSANNE M. HANSEN
JOYCE & WILLIS HEIM
IN MEMORY OF RUTH C. HOMUTH
VINCE KITTOK
IN LOVING MEMORY OF PATRICIA KITTOK
KIWANIS CLUB OF ANNANDALE
PHYLLIS LATOUR & TOM LOVE
CARL & BEVERLY LINDGREN: IN HONOR OF THEIR FIVE CHILDREN
AND TWELVE GRANDCHILDREN: ELFMANN, LINDGREN & SLOGGY
MARY J. MCINERNY
ROGER & KAREN MILLNER
M & M BUS SERVICE, INC.
IN LOVING MEMORY OF PAT NORDBERG
GIVEN BY FRIENDS AND FAMILY
NORM & PEG OSTERBY
IN MEMORY OF JOHN, EFFIE & WARREN OSTERBY
JAMES & SANDRA OTTO
IN LOVING MEMORY OF OUR GRANDSON, ADAM JOHN OTTO
CAPTAIN SCOTT & SUSAN RONNIE
DORIS KALASH MEMORIAL
BERYL, BECKY, NORMAN G. PLANER & JANE PLANER SCHULZETENBERG
IN MEMORY OF NORMAN J. PLANER
US FILTER
HAL & KATHY WENNGATZ
IN HONOR OF OUR CHILDREN, JEFF, BECKY & BRIAN
XCEL ENERGY
COMMITTED TO COMMUNITY
---
$500 TO $1,000
KEITH, JULIE, BRIANNE & BROOKE AEIKENS
DICK & BETTY ANDERSON
IN HONOR & MEMORY OF OUR CHILDREN & GRANDCHILDREN

ANNANDALE HIGH SCHOOL NATIONAL HONOR SOCIETY
CLASSES OF 2002 & 2003
ANNANDALE PROPERTIES, INC.
ARENSON'S ANNANDALE PHARMACY
MARK ARENSON & EMPLOYEES
THE ARENSON FAMILY
MARK & CHRISTINE
THE BAJARI FAMILY
IN LOVING MEMORY OF SHIRLEY BAJARI
GARRY, SHANNON, MARK, DAVID & SAMANTHA BANKS
PEGGY MURPHY
BASS LAKE ASSOCIATION
IN LOVING MEMORY OF PAM BECKMAN
STEVE & SANDY, MARK & CINDY, DOUG & CATHY, KEITH & LAURA & FAMILY
BENDIX ELEMENTARY
IN LOVING MEMORY OF COLLEEN JACOBSON
BENDIX ELEMENTARY
IN LOVING MEMORY OF PEGGY KLIPPENES
BROSE'S BARBER SHOP
JERRY & AARON
MARY & SHELDON BROWN
TIM & NANCY YOUNG
BROWN'S VELVET ICE CREAM COMPANY
BRYAN & TRACY BRUNS
SUE BURKE & FAMILY
IN LOVING MEMORY OF ROBERT E. BURKE
JEFFREY BURKHARDT, CPA
RUTH & RON CARLSON
IN LOVING MEMORY OF MINNIE CHENEY
GIVEN BY FRIENDS AND FAMILY
STEPHANIE A. & MARY T. RINDELAUB DELORI
CHARLENE DONNELLY, GARDENDALE, INC.
IN MEMORY OF CHARLES & ANN DONNELLY
IN HONOR OF EMMA & AUDREY DOUGLAS
WELLES & JEAN MCDONALD EASTMAN
IN LOVING MEMORY OF COLIN & MARION MCDONALD
ARTHUR & EVELYN EMERSON
JACOB ESSEN
IN MEMORY OF MARY LOWE ESSEN
FAIRHAVEN LIONS CLUB
FAIRHAVEN LODGE #182 AF & AM
CHARLES & OPAL FISHER
DEAN & DEBBIE FLYGARE
IN MEMORY OF BERNICE PURCELL
THE FROYEN FAMILY
DANIEL & ELAINE GEPHART
IN MEMORY OF THEIR DAUGHTER, PATRICIA SUE GEPHART
THE GRABHAM & WILDER FAMILIES
HONOR: YESTERDAY - TODAY - TOMORROW
THE GRANDCHILDREN OF ADA PONSFORD LOWE
FOUNDING MEMBER & OFFICER, ANNANDALE IMPROVEMENT CLUB, 1898
GRANITE LAKE ASSOCIATION
GREATER LAKE SYLVIA ASSOCIATION
DAVID & BARBARA GREVEN
ARNIE & RUTH GRUYS
BETTY GUNNARY
IN MEMORY OF THOMAS GUNNARY
BILL & SHARON HALEK
IN LOVING MEMORY OF DAUGHTER, SHAWN TANYA NELSON
DENNIS & MARIAN HARMONING
IN HONOR OF MARIAN SLAWSON
JIM & CARLEEN HART
IN MEMORY OF RUSSELL & MARIAN HART
THE HOIKKA FAMILY
IN MEMORY OF JACOB & ALICE HOIKKA
JEFF, KIM, HOLLY & KAYLA HOLMBERG
HOWARD'S PLUMBING, HEATING, & AIR CONDITIONING, INC.
IN LOVING MEMORY OF DORIS HOWARD
ERIK JOHANSSON & JEAN HASKIN
CHARLES M. JOHNSON
AHS CLASS OF 1935
GLADYS R. JOHNSON
MIKE & JOAN JORGENSON
KAREN'S HALLMARK SHOP
BRUCE, NATALIE, LARA & BRIAN KARG
KEAVENY DRUG
KEEPERS FAMILY & FRIENDS
IN MEMORY OF GLEN & HELEN KEEPERS
BUDDY & BEVERLY KIEHN
IN HONOR OF LIFE, LOVE, FREEDOM, BLESSINGS & HEART MIRACLES
IDELL KNUDSVIG & FAMILY
IN MEMORY OF KEN KNUDSVIG
JACK & TRACEY KUBITZ
JIM & TANYA LATOUR
CANUTE & LILIAN LOGEAIS
LOVING GRATITUDE FOR LIFELONG COMMITMENT TO GOD & COMMUNITY
MAPLE LAKE LUMBER
MERLE & PHYLLIS MATTSON
IN HONOR OF OUR DAUGHTERS, PAULA & LINDA
BILL & CARMEN MERRILL FAMILY
MIDWEST CONCRETE, INC.
BEN & ANN MEUWISSEN FAMILY
MARY, BETH, SUSAN, PATRICK & MICHAEL
DORIS MILLER & FAMILY
IN MEMORY OF LEO B. (LEE) MILLER
LARRY & KAREN MILLER
JOHN & MARIAN NELSON
STEVE & SANDY NIKLAUS
DELORES NOLAN
IN MEMORY OF CLARENCE & SADIE OLSON
ELWYN NORDBERG
IN LOVING MEMORY OF HIS WIFE, PAT
OAK REALTY
DICK & KATHY OFSTEDAL
A LIBRARY: FOUR WALLS WITH TOMORROW INSIDE
STEVE & LINDA OLSON
IN MEMORY OF MERLE & HAROLD BULLOCK
BARBRA ESSEN OWEN - IN MEMORY OF VIOLA PONSFORD RIDGEWAY
FOUNDING MEMBER AND OFFICER, ANNANDALE IMPROVEMENT CLUB, 1898
RED & PAM PETERSEN & FAMILY
THE FAMILY OF JEAN A. & ROBERT L. PETERSON
KIMBERLY, DAVID, KAREY & DEB
JIM & SHARON PETERSON
IN HONOR OF OUR GRANDCHILDREN
IN HONOR OF KEN & ELMA PETERSON
FOR THE LOVE & GUIDANCE YOU HAVE GIVEN YOUR FAMILY
RICHARD B. PETERSON
IN MEMORY OF NEVA B. PETERSON
ROGER PLATTES FAMILY & FRIENDS
IN MEMORY OF EVELYN PLATTES
RICHARD PRATT
IN LOVING MEMORY OF LOIS M. COOPER
STEVE PRINSEN & SHARON SCHUMACHER, TREAVOR & STEPHANIE
MARDON & JOANN QUANDT
IN HONOR OF THE AUTHOR OF ALL TRUTH
BILL & JUDY RATACZAK & FAMILY
KEVIN & KAREN RETRUM
TIM & SARAH ROBB
IN LOVING MEMORY OF GRANDMA & GRANDPA, BE & BERNIE VARTDAL
JIM & MURIEL RUDOLPH
ALLAN, DENISE & TYLER SAFRANEK
ST. IGNATIUS COUNCIL OF CATHOLIC WOMEN
ZANE & CHARLENE SCHAEFER FAMILY
RICHARD & KATHRYN SCHULTZ, CHILDREN: DAVE, DAN, KAREN & JIM
THE SHADDUCK FAMILY
IN HONOR OF NOBEL & MILDRED SHADDUCK
THE SHADDUCK FAMILY
IN HONOR OF ILEX SHADDUCK
JIM & SALLY SMITH
IN LOVING MEMORY OF EVELYN SMITH
MARV & NONA SMITH & FAMILY
TAMS
THE ASSOCIATION OF MINK & SOMERS LAKES
TATANKA GARDENS
Richard Tickner & CHILDREN
in LOVING Memory of Alyce Tickner
DOUGLAS & SHIRLEY TRIPLETT & FAMILY
DOUGLAS & WARREN TRIPLETT FAMILIES
IN MEMORY OF IRWIN & FLORENCE TRIPLETT
US BANCORP FOUNDATION
IN MEMORY OF COLIN & MARION MCDONALD
BETTY BULL WALDHAUER & JACK WALDHAUER
IN MEMORY OF H. C. BULL, A. M. BULL, A. S. BULL, & CHRIS BULL
BARB & TOM WESTMAN
JIM & DARLENE WUOLLET
ZAHLER PHOTOGRAPHY
IN HONOR OF SARA, ANNA & STEVEN ZAHLER
---