CLEARWATER LAKE RESORTS/HOTELS/INNS




Clearwater Lake Resorts, Hotels and Inns (Postcard images courtesy of Steve Briggs)

Longworth's – "Octavius Longworth (1805-1889), who lived on Clearwater Lake, was the first to take summer boarders into his home. He soon built a few cottages for their convenience and Longworth's Resort became a popular resort. It had a fine, sandy beach for children to enjoy and the water was just the right depth for bathing. A fleet of boats with expert fishing guides took care of the fishing enthusiasts as the lake teemed with bass, crappies, pike, and pickerel. The original log house of pioneer days was replaced by a frame house. Miss Jennie Longworth for some time after her father's death in 1889 was the proprieter of Longworth's Resort. In 1904, the Longworths sold the resort to Mr. and Mrs. Henry Tuelle. The Tuelles operated the hotel for several years. During their ownership, the main building burned down, but it was replaced. The Tuelles were followed by Mr. and Mrs. Art Beecher. They had another fire and again the building was replaced." (The Tuelle Resort (Longworth) was destroyed by fire March 26, 1914.)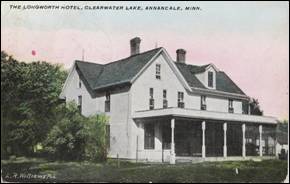 "In time, the summer hotel became less profitable and the Beechers sold the resort to Camp Friendship. Camp Friendship provides summer outings for handicapped children." (Memories of Annandale, Lotus Williams) (Camp Friendship was established in 1964.)
Octavius Longworth came to Corinna Township in 1859. In 1871-1872 he built St. Mark's Episcopal Church on his property with the help of Rev. Knickerbocker. The church is on the National Register of Historic Places (since 1979). There are 53 marked graves including Longworths, Knickerbockers, and Beechers. The church and cemetery are across the road from Camp Friendship. Services are held in the summer only.
Layfayette Resort – "The Lafayette Resort on the east side of Clearwater Lake was built and operated by the jolly French family named Joncas. (Lotus Williams)
Annandale Advocate, May 18, 1905: Joncas & Son: 24-room hotel and cottage, all new. Fishing, bathing, outdoor games, naptha launch. Rates per day $1.50, week $8.00.

Edward Duval bought the Jacob Heberling farm in 1903. He named his new resort Lafayette. Henry Joncas built large additions to the house and made a summer hotel of it in 1904. In 1908 he sold to N. Danielson. In 1915 N. Danielson sold his eighty acre farm known as the Lafayette Resort to D. Millslagle of Eldora, Iowa. In 1917 Fred Kiehn bought the Lafayette Resort from D. Millslagle and put up more cottages. In 1918 Robert Aronson purchased the Lafayette property. On July 4, 1922, the Lafayette Hotel burned down, but the cottages remained. In 1925 Aronson had more cottages enclosed. (Wright County Historical Society)

Shadduck Resort – "The Shadduck family, who lived on the south side of Clearwater Lake, also took summer boarders." (Lotus Williams)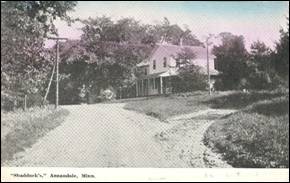 "Harry 'Cap' Allen was well known as a soldier, traveler, and guide. He came to the Wright County area in 1896 and was one of the first guides on Clearwater Lake. He was a guide at Shadduck Resort from 1906 until 1918, and spent one year at Tuelles Resort. He built a boat himself that could accommodate eight to ten people for an outing." – Annandale Centennial book.
"My old home was built in the 1870s as a hotel. My parents were married in 1897 and purchased the land between Cedar and Clearwater Lake where we still reside and started a six cabin summer resort. The area had been platted as the Town of Lakeview and a nine bedroom hotel built in anticipation of the coming of the railroad, which instead was located several miles to the south. My sister Ilex was born in 1901, and I came along in 1904." Small Boy in the Big Woods by Nobel Shadduck
Business card for Shadduck's Summer Resort (On Clearwater and Cedar Lakes, Annandale, Minnesota) - Three miles to station, N.W. Telephone and Mail Twice a Day; Good fishing, fine boating, perfect bathing; cottages for families, low rates. – Annandale Centennial book
Beecher's Resort – Evelyn and Artis Beecher owned and operated Beecher's Resort until 1964 when they sold it to Camp Friendship. Beecher's Resort could accommodate 130 people and offered a central club house as well as tennis and dancing. Vacation Days of the Past, Oak Realty, fall 2002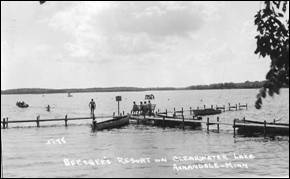 Castaway's Resort and Supper Club – The Castaway's Resort and Supper Club was established on the west edge of Clearwater Lake about 1913. At Castaway's Resort, the Schlink establishment, sin and moonshine were close at hand. They had some wild times there. – Colin MacDonald
Murray Inn – The largest resort during the 1930s was the Murray Inn on Clearwater Lake. The hotel and cottages had accommodations for 150 people with a rate of $3.50/day or $18.00/week with ice and rowboat. Vacation Days of the Past, Oak Realty, fall 2002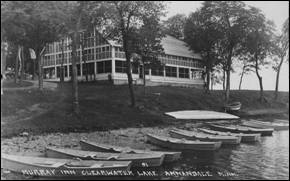 Bungalow Island – The island was purchased by Orrin L. Cofield in 1912 for $300. He built a hotel and offered rustic camp sites. Cofield established a ferry from the southwest side. For a short time the island attracted huge crowds for dinner and dancing. It fell into disrepair during prohibition. In 1983 one-hundred year old bones of a man in his 40s and a woman, age 17-20, were found on the island. Nothing further can be learned about the bones.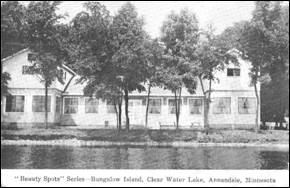 "An interesting bit of Annandale history is connected with Cofield's Bungalow Island Hotel. About 1915 or so, Cofield established a ferry to the island and soon after built a "delightful" hotel, which for a short time drew large crowds from Minneapolis. However, prohibition, anti-gambling laws, and transportation difficulties all contributed to the decline of the hotel. Eventually, the owner destroyed it because of the vandalism taking place there. The island's past is steeped in mystery, which includes possible murder." - Annandale Centennial book.

Kamp Kool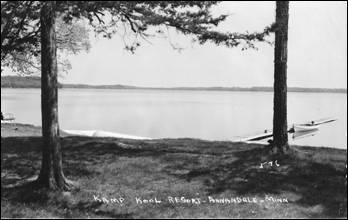 Marvin Inn
<![if !vml]> <![endif]>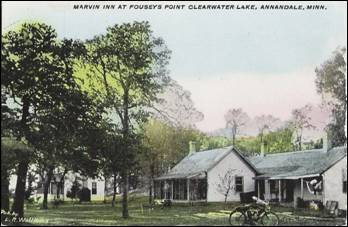 Narrows Resort – The Narrows Resort was founded around 1950 by Arthur and Martha Sjolin. There were three cottages.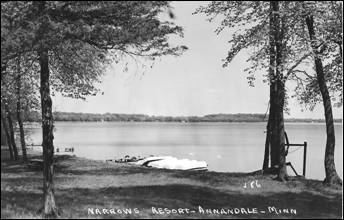 Cofield Resort – Orrin Cofield bought a large portion of the mainland shoreline closest to Bungalow Island. In about 1926, after the Bungalow Island Hotel had been destroyed, he created Cofield's Resort on the mainland by tearing down cottages from the island and rebuilding them on the mainland. Small cottages Orrin built are stillused by summer vacationers, but have been sold off in lots as has the island. -- Bud Cofield, Orrin Cofield's son, Annandale Advocate, November 6, 1996
<![if !vml]> <![endif]>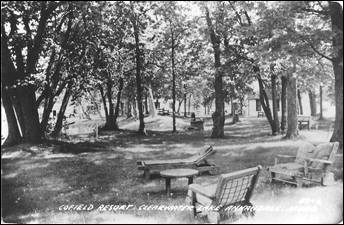 Danielson's – N. Danielson owned the Lafayette Hotel from 1908-1915.
<![if !vml]> <![endif]>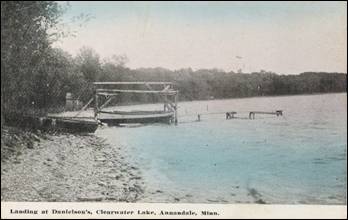 Kemp's – In the early 1900s S. C. Kemp owned the land that became Maple Hill Resort.
<![if !vml]> <![endif]>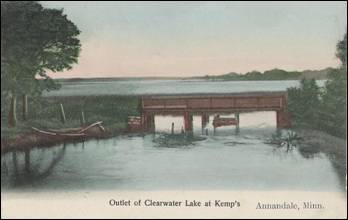 Maple Hill Resort – Maple Hill, for many years owned by the Froyen family, is the last resort existing at Clearwater Lake. The resort was started by S. C. Kemp circa 1906. Annandale Advocate, June 3, 1915: Maple Hill, known as the Kemp place, on the north shore of Clearwater Lake. 14 acres, good house, fine location. Would make a nice summer resort. Price only $2,500.

Annandale Advocate, July 9, 1997: The sale of Maple Hill Resort ended 60 years of Froyen family ownership. The new owners and operators are Dave and Trish Johnston. Boots and Tula Froyen ran the show at Maple Hill for 35 summers. They bought the resort from Boot's parents in 1963 when the resort consisted of 12 fishing cabins. In 1978 they removed some old cabins and built four A-frames. Three more A-frames were built in 1980. They have also added a pool, spa, and Jacuzzi, ten condos and they refurbished some original buildings.
<![if !vml]> <![endif]>