---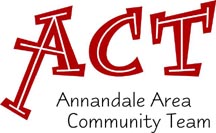 ---
The Annandale Area Community Team (ACT) was formed in 2002 by a diverse group of dedicated area citizens. The original group received leadership training in 2003 through the Healthy Communities Partnership Program of the Central Minnesota Initiative Foundation, learning how to reach out and engage local citizens in developing a shared vision and integrated plan for a brighter future in Annandale. At a visioning session in 2003 the group identified plans for the community which resulted in four individual ACTION TEAMS, and four more ACTIONS TEAMS were added in later years.
---
ACT EVENTS in 2022:
Free Concert Series - 7:00 p.m. in City Park:
June 17th - Tuxedo Band
July 15th - Will Hale and the Tadpole Parade
July 29th - Revolution 5
August 12th - West Metro Band
August 19th - Annandale Community Band

Farmers Market - Saturdays, 8:00 a.m. to noon, June 11th to Sept 24th

Feast of Friends (formerly Field to Feast) - August 21st

Holiday HomeTour: Date TBA
---
ACT Arts – The Arts Action Team seeks to promote, plan and provide artistic and cultural events in the Annandale area. Free Concerts in the Park are held each 2nd and 4th Friday in the City Park at 7:00 p.m. ACTIONS
ACT Discover Downtown Annandale – The Discover Downtown Annandale Action Team is committed to promoting and improving the Downtown area of Annandale. A Farmers Market is open 8:00 a.m. to noon each Saturday, June through early October, in front of City Hall on Cedar Street. In 2012 the DD Team dedicated their newest project, Clock Tower Park on Main Street Annandale. ACTIONS
ACT Feast of Friends Community Dinners (formerly Field to Feast) – The Feast of Friends Action Team strives to support the Farmers Market and its vendors at an annual community dinner presenting Field to Feast ideas.
---
In addition to the three active Teams above there are three inactive that may become active in the future:
ACT Heart of the Lakes Trails – The Heart of the Lakes Trails Action Team strives to develop an extensive trail system in and around the Annandale area that will provide for the health, safety, and recreation needs of the community.
ACT Community Center – The Community Center Action Team strives to provide a facility in the Annandale area for the general public as well the as the school district for the purpose of leisure, health promotion and civic meeting space.
ACT Skateboard Park – The Skateboard Park Action Team strives to bring a skateboard park to Annandale.
---
There are two former Teams that have served their purpose and disbanded:
ACT Beach House Annandale – The Beach House Annandale Action Team was dedicated to providing supervision of the beach house at the municipal park on Pleasant Lake. The Beach House programs was transferred to Community Education in 2020.
ACT 1922 School Building ReUse Project – The ReUse Project Steering Committee worked to find a reuse for the old school building, but it's endeavors were unsuccessful and the building was demolished in 2015
---
ACTION TEAM ACCOMPLISHMENTS:
Portable Performance Stage
Summer Concert Series in the Park
Bike paths and walking paths
Petals & Palate Garden Tours
Holiday Home Tours
Field to Feast Community Dinners
Beach House Annandale on Pleasant Lake
Downtown Farmers Market, weekly in the summer
Style shows
Outdoor Public Art
Clock Tower Park
2016 ACT Annual Report 2017 ACT Annual Report 2018 ACT Annual Report
2019 ACT Annual Report 2020 ACT Annual Report 2021 ACT Annual Report
---
ACT OFFICERS
as of January, 2022
Chair - Position is Open. Kelly Hinnenkamp is the current Coordinating Chair
Acting Vice-Chair - Judy Grabham
Secretary - Jill Bishop
Treasurer - Marlene Young
The ACT Board made up of current ACT officers, Action Team Leads, and Members at Large meets quarterly.
---
ACT MISSION STATEMENT: Annandale Area Community Team (ACT) will promote and facilitate community visioning with positive changes by engaging area residents in grassroots involvement.
---
The Annandale Area Community Team (ACT) was formed in 2002 by a diverse group of dedicated area citizens. The original group received leadership training in 2003 through the Healthy Communities Partnership of the Central Minnesota Initiative Foundation.
ACT is a 501(c)3 non-profit organization, EIN # 16-1719595.
Mail: ACT, P.O. Box 596, Annandale, MN 55302
Email: ACT.Annandale@gmail.com
ACT ByLaws (approved 10-14-2016)
---

---